Air Greenland offers discounts for pensioners / early retirees on Standard ticket.
You can get up to 33% off the normal price of a standard ticket.
The discount depends on which route and season of the year you travel.
Discounts on domestic routes in Greenland apply all year round, while on trips to and from Greenland apply outside the high seasons.
When purchasing the ticket, you must select 67+ and early retirement, during the booking on the website.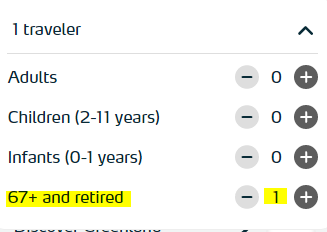 Pension discount for travel to and from Greenland applies during these periods:

04. January 2023 – 26. March 2023
12. April 2023 – 14. June 2023
16. August 2023 – 13. December 2023